Ce mois d'octobre marque une collaboration appuyée avec La Marbrerie, lieu artistique à Montreuil.
Après un premier rendez-vous avec le Quatuor Bozzini (oeuvres de Eliane Radigue, Phill Niblock et James Tenney, le dimanche 6), les Instants Chavirés proposent un nouveau concert des inclassables et géniaux The Necks.
Un bel écrin pour le groupe australien qui a fait salle comble à plusieurs reprises aux Instants Chavirés.
On vous attend nombreux !
Hors les murs > Ce concert à lieu à >
La Marbrerie
21 rue Alexis Lepère – 93100 Montreuil
Tél. : 01 43 62 71 19
M° ligne 9 : Mairie de Montreuil
(sortie Boulevard Paul Vaillant-Couturier puis 2 min à pied)
http://lamarbrerie.fr/
Ouverture : 19h30
Concert : 20h30
Restauration et bar sur place dès 19h30.
Tarifs :
Plein tarif sur place : 18 euros
Préventes en ligne & montreuillois : 15, 49 euros 
Abonné.es Instants Chavirés : 13 euros

>
THE NECKS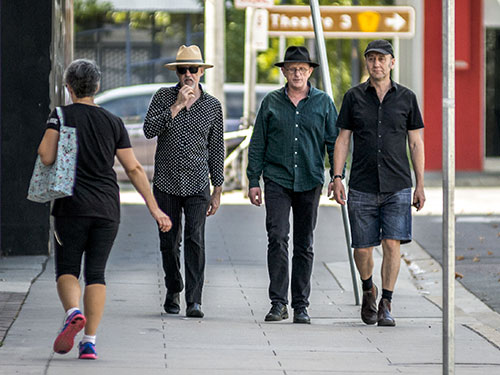 © Holimage
Chris Abrahamspiano
Tony Buckbatterie
Lloyd Swantoncontrebasse
Ni minimaliste, ni ambient, ni jazz, la musique du groupe australien culte The Necks est possiblement unique au monde aujourd'hui.
Une immense étendue improvisée en perspective, pouvant, en live, atteindre à la Grande Intensité.
30 ans d'activité et toujours aussi inclassables… (leur premier disque intitulé « Sex » est sorti en 1989). Les derniers albums sont sorti sur Ideologic Organ, la collection sur Mego Editions, dirigée par Stephen O'Malley et sur Fish Of Milk.
«La force de The Necks est de savoir tourner en boucles sur des morceaux qui avancent dans une autre direction que celles que ces boucles conseillent.»
Le SonDu Grisli
«Aux confins du jazz, du kraut et du post-rock, de la musique répétitive et de l'ambient, les Necks défrichent, au fil de longs morceaux instrumentaux, une voie singulière.»
PY Macé / Mouvement.
"These men are gods !"  Michael Gira, Swans
"No other performing unit can reach into a remotely similar sonic area… almost as if their music is disembodied from conventional human touch, arriving from some unknown abstract source."
New York City Jazz Records
http://www.thenecks.com/
https://thenecksau.bandcamp.com/